Study support
Mentoring Program
The Department of Computer Science organizes a mentoring program for students in their first semester of computer science to facilitate their entry into computer science studies and to promote successful study. Impulse and information lectures, discussions and individual meetings with student mentors provide orientation at the beginning of studies and support the transition from school to university learning and work.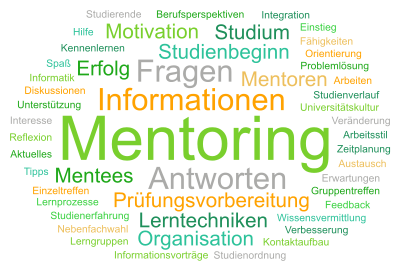 Since the beginning of the pandemic, the mentoring program has been breaking new ground. The InfoDesk during the first week of lectures as well as the counseling sessions are also offered online.
Further information is available under [Dates].
There is the possibility for digital counseling sessions or in presence.
Award
The mentoring program in the introductory phase of studies in computer science convinced, among others, with two newly planned measures for the winter semester 2018/19 at the idea competition Diversität gemeinsam gestalten.
General
The beginning of studies presents one with numerous challenges. Everything is new, and after enrolling you are initially on your own. However, with the great freedom and lack of control in everyday university life, there can always be one or two stumbling blocks. This is where the mentoring program comes in. Our mentors are experienced students of computer science who will accompany you during your first semester. They will give you feedback on your current study situation, tips on self-organized learning and - all in all - a contact person for any questions you may have. During the registration period, you can choose the times that suit you best for the regular conversations with your mentor. The content of the one-on-one meetings will of course be treated confidentially.
Registration
The AsSESS system is used to register for the mentoring program.
Note: Latecomers, computer science students in higher semesters and students who do not major in computer science can register directly with the coordinator and will still be accepted into the program depending on workload.
Information at the beginning of the program
We have compiled some useful information on typical questions that arise when students begin their studies:
Frequently asked questions about studying
Helpful brief information about a semester that is partially digital is available here:
Time required
One-on-one meetings generally take place every three weeks in the time slot determined by the registration process. There are 45 minutes scheduled for each session to allow enough time to discuss your concerns. If there is a need for more discussion, you can arrange additional appointments with your mentor.
Mentoring Team Computer Science
Coordination: Prof. (apl) Dr. Beate Bollig
Tel.: 0231 755-2598